Wild Daze Ale Rollout
December 4, 2021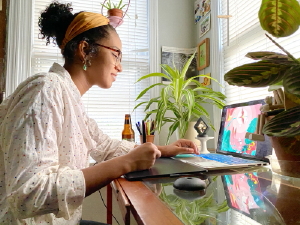 Latina artist and Miami native Emily Alvarez designed the label for Wild Daze Ale.
Mark your calendars and watch "Ding" on the Wing and social media for more information about the rollout of DDWS's exclusive Wild Daze Ale on December 4 to celebrate our 40th anniversary. The launch party starts at 4 p.m. at Fort Myers Brewing Co. in Fort Myers, with island events to follow throughout the month. The WoW (Wildlife on Wheels) mobile interactive experience will be onsite for the celebration, along with food trucks and other special goings-on.
JJ Taylor Companies will distribute Wild Daze Ale throughout Southwest Florida to restaurants and bars, on tap and in cans. The DDWS team encourages all island restaurants to carry Wild Daze. The special brew will be available for a limited window of time -- about six months. Already, Doc Ford's Rum Bar & Grille, Bailey's General Store, Timber's Resturant & Fish Market, and Sanibel Captiva Beach Resorts' pool bars (The Upper Deck Pool Bar at West Wind Inn and Oasis Pool Bar & Grille at Tween Waters have signed on to sell the beer).
"We have a lot to celebrate in 2021 and 2022, and Wild Daze Ale promises to add fizz and buzz to the celebration," said DDWS Executive Director Birgie Miller. "We thank Fort Myers Brewing for this spirited collaboration. Our goal is to expand 'Ding's' appeal to a wider, young, multi-cultural audience in a fresh, new way."
Anyone interested in more information about distributing or purchasing the beer should contact DDWS Development Officer and project leader April Boehnen at 239-472-1100 ext. 4.