"Ding" Darling Days 2017:
Mark your calendars for October 15-21

Visit here often for more details.
Interested in becoming a sponsor? Click HERE.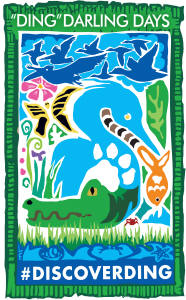 "Ding" Darling Days' Family Fun Day on Sunday, October 15, kicks off a week of eco-activities with all-free refuge tram tours, live wildlife presentations, hot dogs, kids crafts, and other family activities. Birding, boating, tram, paddleboarding, and kayaking activities fill the week. The 29th annual celebration ends on Saturday, October 21, with Conservation Art Day, where Federal Duck Stamp Winners, other artists, cartooning, and a Refuge photography tram tour will highlight a day devoted to Jay Norwood Darling's legacy as the first duck stamp artist and Pulitzer Prize-winning political cartoonist.